GoAnywhere MFT™ is a managed file transfer solution which automates and secures file transfers using a centralized enterprise-level approach. Incorporating GoAnywhere MFT will save you time and money, improve security and help your organization to meet compliance requirements.
Protecting sensitive data is of paramount importance in today's environment. GoAnywhere MFT will provide a safe and audited method for transferring information within and outside of your enterprise.  File transfers and related business processes will be streamlined with GoAnywhere MFT without the need for programming or special skills.
You no longer have to use multiple products and scripts to handle your file transfer processes.
GoAnywhere MFT is a comprehensive solution that will manage all of your organization's file transfer needs through a single interface.
GoAnywhere MFT has the flexibility to simplify, secure and audit:
Server-to-Server batch file transfers
User-to-System ad-hoc file transfers
Person-to-Person file collaboration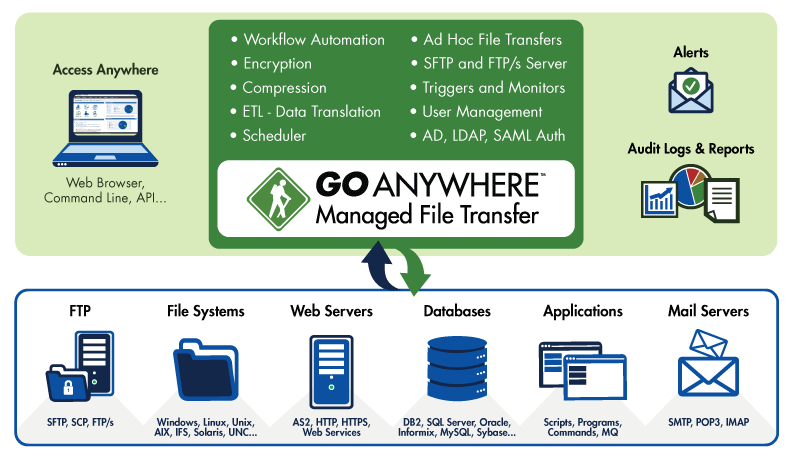 Automation
Run multi-step workflows to transfer, encrypt and process files
Schedule transfers to run at future dates and times
Monitor folders for new files and process them immediately
Integrate with existing applications, programs and scripts
Security and Encryption
Meet federal standards with  FIPS 140-2 validated AES encryption
Encrypt files "at rest" and "in motion"
Encrypt and decrypt files using the Open PGP standard
Protect transmissions with SFTP, SCP, FTPS, AS2 and HTTPS protocols
Easily customize your GoAnywhere MFT dashboard with the content that interests you most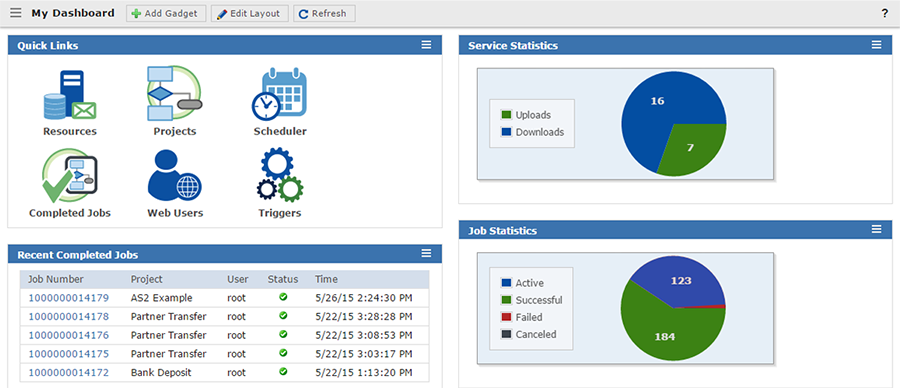 Data Transfer
GoAnywhere MFT connects to a wide variety of servers for exchanging data.
Secure FTP servers using SFTP, SCP and FTPS protocols
AS2 and HTTP(S) servers, including Web Services
Standard FTP and Email servers
Local file systems, network shares and MQ servers
Translation
Need to translate data to/from other formats or databases?
Connect to popular databases to export or import records/rows.
Translate data to/from Excel,XML, Delimited text and Flat File or Fixed Width file formats
Simplify ETL processes with the ability to filter records, map columns and transform values
Replicate records/rows between database tables
Audit Reporting
Detailed audit logs are required for maintaining compliance with regulations and privacy laws. GoAnywhere MFT tracks all file transfer activity in a central database which can be viewed in the dashboard or automatically distributed in PDF format.
Globally Search all logs from one central location
Filter Results based on date ranges, specific users, severity, etc.
Schedule Reports to run at future dates/times with email distribution
Export Audit Logs for viewing in Excel and other applications
Send to SYSLOG for centralized error reporting
Simplified Administration
GoAnywhere MFT provides a browser-based interface for configuring and monitoring file transfers and workflows for the enterprise. Each administrator can be assigned different roles in GoAnywhere MFT with their own custom dashboards.
Configure file transfers and workflows using graphical forms
and drag-n-drop
Set up trading partners and other settings with intuitive wizards
View critical statistics and analytical information
Clustering for scalability and disaster recovery
GoAnywhere MFT can be scaled to meet high volumes of file transfers for the enterprise. With the clustering technology in GoAnywhere MFT, file transfers and other processes can be distributed across multiple systems for load balancing. Clustering also provides true "active-active" support for disaster recovery in mission-critical environments.
Horizontally scale by adding more systems to the cluster
Organize workflow jobs by run priorities and job queues
Load balance incoming connections from trading partners
Auto-failover to the remaining systems in the cluster
Does not require 3rd party software to support clustering